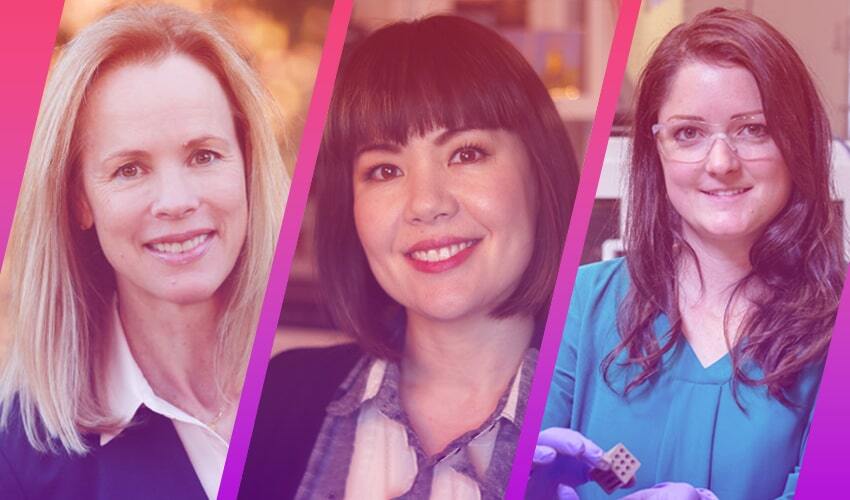 In honor of International Women's Day, once again we wanted to put women in the spotlight! Today, more and more women are mastering 3D technologies, but above all they are using them in their daily activities, in all sectors. This year, we wanted to come back to some of the key markets using additive manufacturing and show you some of the different projects in which women have greatly contributed. Aerospace, automotive, medical, design, education: discover the role that these women have played in these industries, often driven by their passion for new technologies.
Aerospace
Lucía Bayona, Air Systems and R&D Engineer at Airbus
One of the world's largest aerospace companies is Airbus, which is dedicated to the design, manufacture and sale of airplanes and aircraft. Moreover, as we know, the company has been using additive manufacturing for several years now. In Spain, one of the leading women in this field is Lucía Bayona, who works as both a systems engineer and in R&D in the field of metal additive manufacturing at Airbus. After graduating the Industrial Engineering program with a major in Mechanical Engineering from the Polytechnic University of Madrid, Lucía started her journey into the world of 3D printing through HiETA Technologies, in London. There, she acquired the knowledge and experience of the technology that she is currently developing at Airbus. Both her activity within Airbus and her participation in additive manufacturing projects in aeronautics have allowed her to be recognized as one of the great women in the manufacturing industry.
Dr. Melissa Orme, Vice President of Boeing Additive Manufacturing
Dr. Melissa Orme has been a mainstay in both the additive manufacturing and aerospace industries for a number of years now. In 2019, she joined Boeing as Vice President of Additive Manufacturing where she has been responsible for the growth and scaling of additive manufacturing capabilities of the aerospace giant including overseeing the increase in 3D printed end-use parts. In 2022, Dr. Orme was key in the opening of the new Center of Additive Manufacturing Excellence (CoAME) in Auburn, Washington. Technically in business since 2020, the inauguration of the CoAME was only able to take place in November 2022 due to restrictions related to the pandemic. The center will be responsible for the design and manufacturing of tools and parts for commercial aircraft, helicopters, spacecraft, and satellites using AM. 
Automotive
Malini Dusey, Additive Manufacturing: Polymer Process Lead at General Motors
For a number of years now, General Motors has been using 3D printing as a tool in its manufacturing processes, whether for prototyping or for final parts. And right in the middle of that is Malini Dusey, chief engineer of additive manufacturing and leader in polymer processes at General Motors. Since joining the company, Malini has been a key member of the team with General Motors establishing itself as a leader in 3D printed automotive tooling. It is interesting to note the role of women in a largely male-led industry and to see how the experience and expertise of people like Malini are enabling General Motors to carry out additive manufacturing processes to create automotive components to be implemented in the company's assembly plants.
Dr. Ellen Lee, Technical Leader Additive Manufacturing Research at Ford
Another important figure in AM, Dr. Ellen Lee is the Technical Leader for Additive Manufacturing Research at Ford Motor Company, where she has worked for over 24 years in a variety of roles. Dr. Lee is a pivotal figure in Ford where she has been responsible for developing the AM strategy. As such, she has played a large role in a number of projects at the company. Notably, she established Ford's dedicated AM research program back in 2014 driving the use of 3D printing including for end-use parts. She has also played a role in the charge to increase sustainability within the industry including a project where Ford worked with HP to recycle 3D printed waste to make automotive parts for Ford's Super Duty F-250 trucks.
Construction
Anna Cheniuntai, CEO and Founder of Apis Cor
In 2014, Anna Cheniuntai graduated with a bachelor's degree in Space Physics. After that, she decided to start her own company. Apis Cor is a robotic 3D printer company for the construction sector. The American company is one of the leaders in the industry and impresses with innovative 3D technologies and associated materials. One notable project was the production of the world's largest 3D-printed building in 2019 in Dubai, which even received an entry in the Guinness Book. In the future, the pioneer wants to make 3D-printed house construction possible not only on Earth, but also on Mars and the moon.
Maggie Grout, the Young Visionary Behind Thinking Huts
Maggie Grout is the founder and CEO of Thinking Huts, a nonprofit which combines 3D printed construction with education. More concretely, through the company, Grout is hoping to increase global access to education through humanitarian-driven technology solutions. The company is leveraging additive manufacturing to build 3D printed schools in communities where they are needed. Already, the pilot project, a 3D printed school in Fianarantsoa in Madagascar, has been completed, an important milestone in the establishment of 3D printed schools. Moreover, Grout, along with her team, is not stopping there. There are plans for even more 3D printed schools in Madagascar as Grout continues to push the use of 3D printed construction to make locally-sourced and more quickly made schools to increase education for all. 
Design/Fashion
Anouk Wipprecht, a FashionTech Designer
We have previously told you about Anouk Wipprecht. The FashionTech designer has a history of using innovative technologies, including of course 3D printing but also AI and robotics, in her incredible designs. In a recent project, the young Dutch designer showed off her futuristic 3D printed dresses (made with both SLS and MJF), made in collaboration with Shapeways and reminiscent of robots, at an event in New York. In the past she has also made a 3D printed dress that could extract data from tbe brain and reflect the thoughts of the person wearing it and a 3D printed proximity dress designed for social distancing.
The Designer Sophy Wong
Sophy Wong is a young multidisciplinary designer who specializes in the garment industry and digital manufacturing. She works a lot with innovative techniques, focusing on rather futuristic projects. Recently, she designed a dress entirely 3D printed from PLA, composed of two pieces made from 3D printed panels. It is lined with silk and has two transparent zippers in the back.
Education/Research
Amy Elliot, 3D Printing Scientist at Oak Ridge National Laboratory
Amy Elliott earned her PhD at Virginia Tech, where she was the project manager for the DreamVendor, the world's first 3D printing vending machine. Now, she is a member of the R&D staff at Oak Ridge National Laboratory (ORNL), a team of researchers where additive manufacturing has been making a big impact. According to ORNL, Amy Elliott conducts research on inkjet-based metal and ceramic 3D printing. She is also a science figure on the show "Outrageous Acts of Science" where she deciphers some viral videos and explains the engineering and science behind them. Last year, Amy was recognized for her work to further STEM education and she was one of the 120 women selected to have a 3D printed statute in the exhibitor IfThenSheCan at the Smithsonian.
Dr. Alex Pillen, Associate Professor of Anthropology of Language at UCL
One application of 3D printing is to make a clear and tangible model of something which is otherwise not easy to understand. Dr. Pillen is the Associate Professor in the Anthropology of Language at UCL (University College London) who worked with Emma-Kate Matthews from the Archaeological school of the same university to create 3D printed language models of endangered languages. The pair made 3D-printed models of four minority languages, mapping their grammatical features to showcase the singularity of each one and allow people to have a relationship with these threatened tongues. To make the models, they used Grasshopper and Rhino3D and the initial models were printed in PA12 using SLS.
Medical
Dr. Teresa Flaxman, Senior Clinical Research Associate at the Ottawa Hospital Research Institute
Teresa Flaxman is a senior clinical research associate at the Ottawa Hospital Research Institute, who in 2021 pioneered the use of 3D models for gynecologic surgery. She worked with the 3D Printing Lab team at the Institute to create a physical 3D model of the uterus of a woman preparing for surgery, which allowed the surgical team to see the anatomy of the organ and most importantly, allowed the patient to avoid major surgery – in this case, complete removal of the uterus. The print took 14 hours and the team will expand their work with the 3D Printing Lab in order to offer other women minimally invasive gynecological surgery.
Maureen Mulvihill, CEO of Actuated Medical
Oil & Gas
Lisa Kieft-Leenders, Team Leader of 3D Printing at Shell
Especially in the oil and gas industry, there is a feeling that women are underrepresented. For this reason, we are even more pleased to present Lisa Kieft-Leenders. After completing her Master's in Product Development in the Netherlands, she began her career as a 3D printing engineer. Relatively quickly, she worked her way up to team leader at various 3D printing manufacturers. She now works for Shell, an oil and gas company in Amsterdam, where she is responsible for mechanical workshops as well as team leader for additive manufacturing. Lisa Kieft-Leenders is also working with her colleagues to make the energy industry more sustainable with the help of 3D printing.
Valeria Tirelli, President and CEO of AIDRO
Continuing with the oil & gas sector, one of the women who has become the face of the industry, especially in Europe, is Valeria Tirelli. Valeria Tirelli is president and CEO of AIDRO, a company specializing in fluid power, which additively manufactures metal parts for the oil & gas sector, but also for hydraulics, aerospace and energy. Taking over the management of the company from her father in 2012, Valeria is guiding the company towards an ever-increasing development, which has led her to join Desktop Metal in 2021, confirming her commitment to additive manufacturing. Valeria is also Area Manager Italy for Women in 3D Printing, the largest association dedicated to fostering and supporting the presence of women in the 3D printing industry. In this capacity, she is always at the forefront of organizing events and sharing moments to boost the growth of the Italian female AM community.
What do you think of these women who are leading the adoption of 3D printing in these crucial sectors? Have you seen their work before? Let us know in a comment below or on our LinkedIn, Facebook, and Twitter pages! Don't forget to sign up for our free weekly Newsletter here, the latest 3D printing news straight to your inbox! You can also find all our videos on our YouTube channel.

link