Mercedes-Benz is comfortable in its own skin. From the invention of the combustion engine at the tail end of the 19th century through to today's focus on electrification, the German manufacturer has been at the heart of the changing look and feel of mobility. Gorden Wagener, who has led the company's design team since 2008 and has been chief design officer since 2016, has stewarded its vast and diverse portfolio through fast-evolving consumer desires, legislative shifts and technological changes. At the same time, he has overseen the conceptual visions that drive the company forwards, as well as the design team's expansion into non-automotive projects.
Partnerships are a crucial spoke in the circular world of luxury product design. 'We only do very select partnerships, like the one with Virgil Abloh,' says Wagener. 'It's about discovering what we have in common with another brand.' The final fruits of this particular collaboration only surfaced after Abloh's death in 2021, having begun with a radically customised G-Class the year before. The end result was a dramatic conceptual off-roader, dubbed Project Maybach. This pairing certainly pushed the envelope for Mercedes, and although the cars themselves were ostentatious, they were still recognisably practical and rooted in real-world requirements. For the company's newest partnership, with Moncler, these considerations have been gleefully thrown to the wind. Instead of creating a concept car or an extreme custom piece, the collaboration has resulted in a striking piece of automotive sculpture.
Mercedes-Benz on its new collaboration with Moncler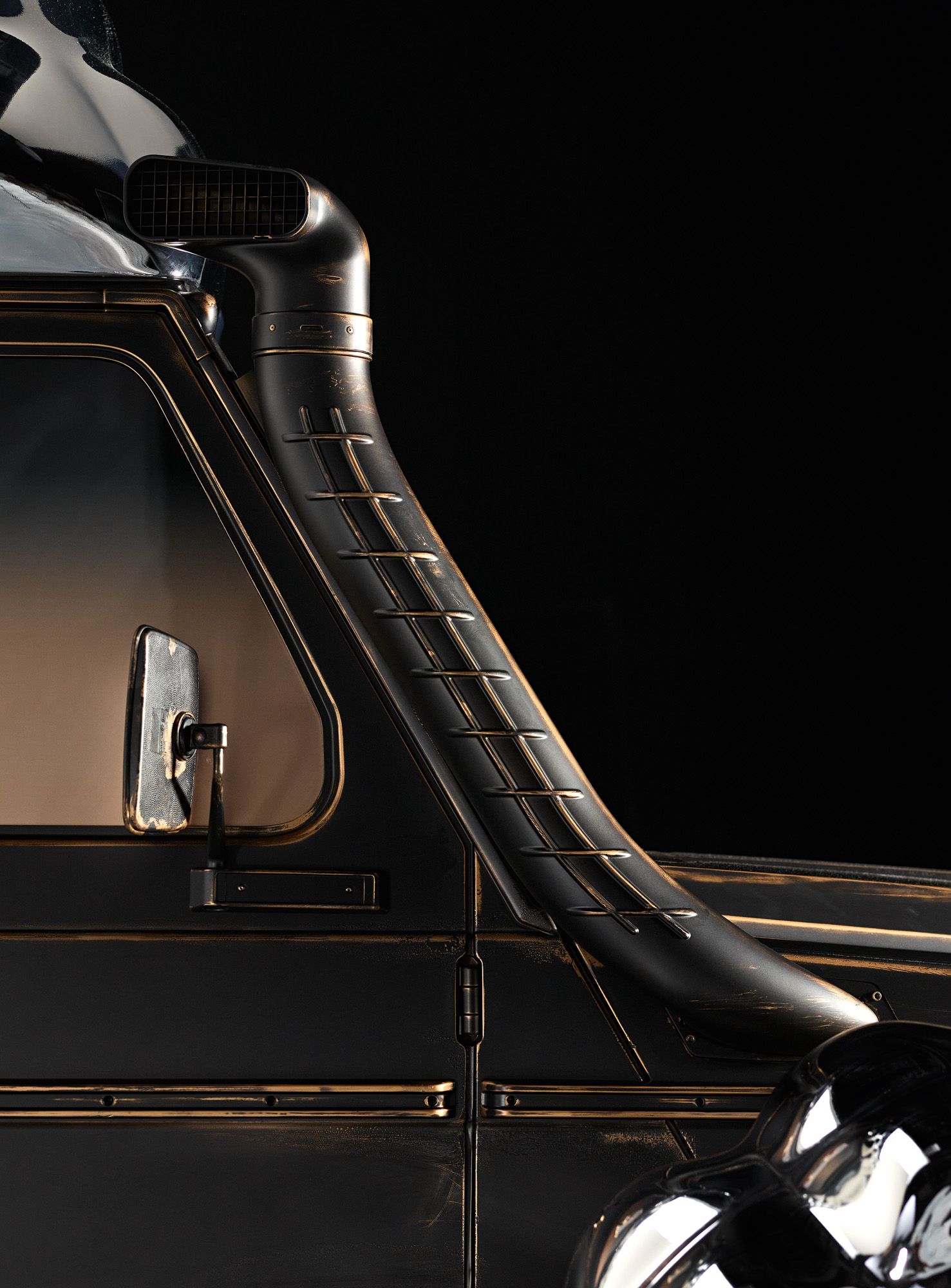 Dubbed Project Gravity throughout its gestation, the piece, which, at the time of press, has yet to be officially named, marks a departure from conventional Mercedes design visions. For a start, there's a real sense of humour at work; this is not a staid homage to the Italian fashion house's aesthetic, but a playful piece of contemporary art that splices two iconic shapes into a single radical form.
Starting with the form and proportion of an original G-Wagen (not the revised and overhauled second generation that debuted in 2018), the design team added a salute to Moncler in the form of vast balloon tyres, an oversized pick-up bed and a stylised zipper. 'I asked myself what Moncler was about,' says Wagener. 'And for me, it's the classic puffer down jacket. I love full, rich surfaces, and these jackets absolutely embody this.' The tyres and cabin have been shaped to resemble expanded Moncler jackets, formed from prominent quilted pocketing that stands in stark contrast to the rectilinear form of the G-Wagen itself.
Wagener says that the overall vision of the piece came out of their earliest visualisation sessions. 'We called it Project Gravity not just because it was "G" for G-Wagen, but because the aesthetic was influenced by the Apollo mission,' the designer recalls. 'We created visuals showing the car as if it was the command module floating down on big parachutes having just returned from the moon.' The G-Wagen itself is not a real car body, but a carefully scanned vintage bodyshell reproduced in thin, lightweight material, finished with a patina that Wagener describes as being 'like an old Leica camera, with a worn surface showing the metal below'. He says, 'We have combined this almost vintage approach with the futuristic silver of the quilting, which evokes the silvery foils that insulate satellites in orbit as well as high-tech emergency blankets.'
Even though there's no interior, the roof and rear are bisected by a massive zipper. 'The entire piece almost resembles a giant handbag,' says Wagener. 'The zipper looks like a tow hook that could pull a freight train.' There are other obvious visual antecedents, ranging from American monster truck culture through to the big-wheeled G-Class G 500 4×42 concept from 2020, not to mention the ongoing revival in all things related to space exploration and rocketry. 'We're even thinking about creating an animation of the car bouncing around on the moon,' says Wagener.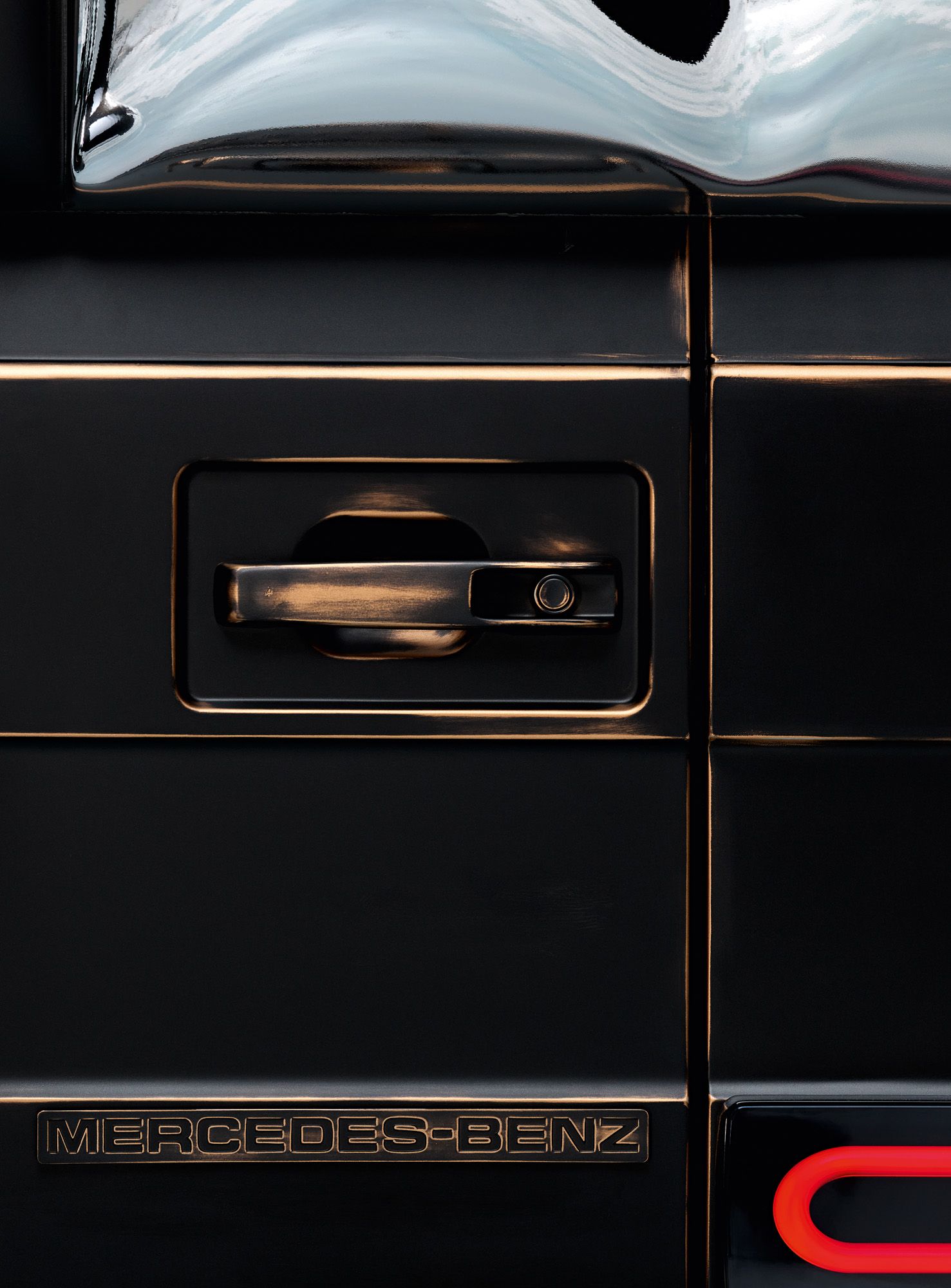 The designer acknowledges the piece owes a debt to fine art practice, not least the work of Jeff Koons' balloon animals and oversized vitrines. 'The piece is totally glossy and over-exaggerated,' Wagener says, pointing out that Mercedes has been involved in several art projects under his tenure. These include the Aesthetics series of sculptures, which pare automotive designs down into simplified shapes, both as a homage to the past and a nod to future forms.
There's not a lot of streamlining and simplification in the Moncler project, a decision that reflects the tough and enduring character of the original G-Wagen. First introduced in 1979, the Geländewagen began life as a military utility vehicle before finding favour among design aficionados of an increasingly luxurious bent. 'It's an icon, and icons are very important because they create a sense of luxury,' says Wagener. 'The G-Class is probably our strongest icon, but you still have to treat it carefully. We were very respectful when we redesigned it, while still bringing it into a new age.'
Once it leaves the studio, the piece will be shown at London Fashion Week and possibly travel further afield in its mission to disseminate the shared vision of Mercedes and Moncler. As for further developments in the partnership, Wagener won't be drawn, saying only, 'It's not just going to be about a single art piece.' As visions go, it's out of this world.
The Mercedes-Benz x Moncler art piece will be unveiled on 20 February as part of Moncler Genius' 'The Art of Genius' show at London Fashion Week.
A version of this story appeared in the March 2023 Style Issue of Wallpaper*, available now in print, on the Wallpaper* app on Apple iOS, and to subscribers of Apple News +. Subscribe to Wallpaper* today (opens in new tab)
mercedes-benz.com (opens in new tab)
moncler.com (opens in new tab)