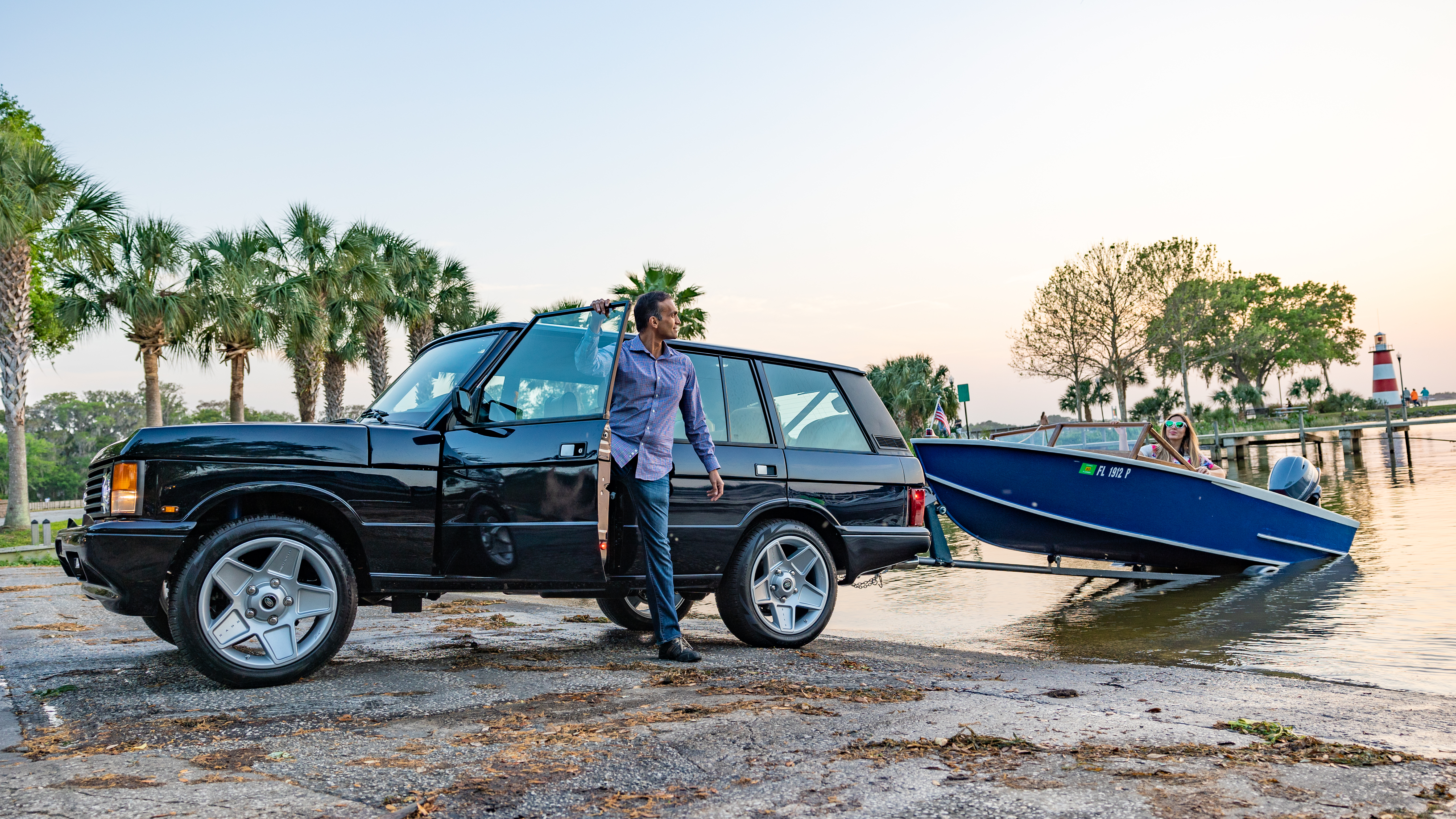 KISSIMMEE, Fla., April 11, 2023 (GLOBE NEWSWIRE) — E.C.D. Automotive Design (E.C.D.), the world's largest Land Rover restoration company globally renowned for its bespoke luxury builds – including custom Defenders, Range Rovers and most recently Jaguar E-Types – today reveals Project Gibbles. Destined for a historic small town in the Sunshine State, the 1995 Range Rover Classic with an enhanced LT1 engine packs a punch for daily driving down cobblestoned main streets to weekend trips to the coast.
"The team looks at every detail from the 1990s base model – which is not far from the original design released back in the 70s – and customizes every gauge needle, stitch pattern and tailpipe to transform this offroading beauty into a modern daily driver," said Chief Experience Officer and Co-Founder Tom Humble. "These customizations we walk through with our clients are limitless, but there is something special about how this client has stayed true to Land Rover's mission for the Range Rover Classic – being the ultimate 'car for every reason.'"
Inspired by a vintage Porsche restoration, this one-of-one E.C.D. build is a fresh take on the optimal daily driver with its classic British glamor and twentieth century technology. The classically modern restored Range Rover Classic sits on 20-inch Kahn Mondial Retro wheels dripping in a gleaming Liquid Silver, making for an eye-catching ride to the office on weekdays and nearest lake on weekends. Project Gibbles' subtly sophisticated silver accents continue with matching door handles, contrasting the body's deep midnight blue – deemed Mariana Black. The client finished off this elevated heritage vehicle with the retro-inspired Brooklands wrap-around, creating an envy-inducing exterior that pops in a cityscape and attracts attention at the beach.
Complementing the polished exterior are two lush tan leather Land Rover captain chair seats with in-house hand-sewn black piping framing the edges. The chic color scheme extends through the interior, with a matching Range Rover soft dash in the same creamy finish and stylish black OEM steering wheel, giving it a timeless feel – exactly what the client came to E.C.D. for. This exemplary display of 90s industrial design has functionality to every feature, including a backup camera for loading the boat in the water and four USB ports to keep the whole family's phones charged. While the exterior exudes old-school charisma, the build boasts swoon-worthy tech upgrades, including a SONY Halo screen with Bluetooth and CarPlay; a wireless phone charger; and Infinity Kappa speakers paired with an Infinity BassLink subwoofer.
For more information on how to build your own vehicle please visit ecdautodesign.com.
Project Gibbles
High-resolution images and video are here.
Model — Range Rover Classic
Engine — GM LT1
Transmission — 8-Speed Automatic
Axles — Stock
Suspension — E.C.D. Air Ride
Brakes — EBC High Performance
Exhaust — Single Borla stainless sport exhaust
Exterior
Paint Color — Mariana Black in Gloss
Roof Color — Mariana Black in Gloss
Wheels — 20" Kahn Mondial Retro in Liquid Silver VM4201
Tires — Pirelli Scorpion Zero All Season
Grille — OEM
Bumper — Brooklands wrap around
Additional Features — Range Rover lettering in Mariana Black in Gloss; door handles in Liquid Silver VM4201
Interior
Seat Layout — 2+3
Front Seats — Land Rover captain chair seats, heated
Mid Row Seats – Land Rover 60/40 seats
Leather Color — Garrett Sandpiper FL6029 and Flight Rook FL6050
Seat Design — Horizontal single stitch with black piping around seats
Dash – Range Rover soft dash with top in Flight Rook FL6050 and bottom in Sandpiper FL6029
Carpet — Black
Steering Wheel — OEM wrapped in Flight Rook FL6050
Gauges — Dakota digital gauges
Additional Features — Two cup holders in center console; shifter in Flight Rook FL6050 with ashwood trim insert
Audio & Electronics
Infotainment — SONY Halo Screen
Sound System — Infinity Kappa speakers and Infinity BassLink subwoofer
Additional Features — Wireless charger, rear air conditioning, 4 USB ports, WiFi, Bluetooth, backup camera, automatic headlights
About E.C.D. Automotive Design
E.C.D. Automotive Design (E.C.D.) is a creator of restored luxury vehicles that combines classic English beauty with modern performance. Each vehicle produced by E.C.D. is fully bespoke, a one-off that is designed by the client through an immersive luxury design experience and hand-built from the ground up in 2,200 hours by master-certified ASE craftsmen. The company was founded in 2013 by three British "petrol heads" whose passion for classic vehicles is the driving force behind exceptionally high standards for quality, custom luxury vehicles. E.C.D.'s global headquarters, known as the "Rover Dome," is a 100,000-square-foot facility located in Kissimmee, Fla. that is home to 70 talented craftsmen and technicians, who hold a combined 61 ASE and five master level certifications. E.C.D. has a logistics center in the U.K. where its seven employees work to source and transport 25-year-old work vehicles back to the U.S. for restoration. 
Media Contact
Uproar PR for E.C.D. Automotive Design
Christine Skofronick
[email protected]
A photo accompanying this announcement is available at https://www.globenewswire.com/NewsRoom/AttachmentNg/607c0273-d9bf-40ec-bb95-e75bc7c82dcd