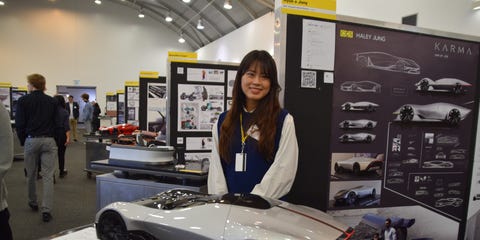 Tom Murphy
Spring has sprung, which means college students will soon be sprung from lectures, term papers, and final exams. In Detroit, it means transportation design graduates from the College for Creative Studies will begin their careers in automotive studios, helping launch the next generation of mobility. For these 27 graduating seniors (most of whom already have landed jobs), it isn't easy deciding between automakers that have been around for a century or clean-sheet all-electric startups with a corporate culture still taking shape.
Paul Snyder, who chairs the Transportation Design program at CCS, says its two top graduates this year were sought after but chose to work for Arrival, which was founded in 2015 in Luxembourg to produce electric vehicles (including buses) in microfactories. Last week, CCS hosted Industry Day—a chance to showcase the best work of its 145 transportation students from around the world. The event was held in Detroit at the Taubman Center, which had been the global headquarters for General Motors design—the place where Harley Earl established the studio as a major driver of the company's product successes. That space has been renovated and is now a vital part of the CCS campus.
1 of 37
Like many of his fellow students, senior Mohamed Outabachi used 3D printing to produce his model concept.
2 of 37
Not a lot of room for wheel travel in this model from senior Sung Kwon Go.
3 of 37
Front view of Sung Kwon Go's model.
4 of 37
Riley McKee displays two of his projects: a motorcycle for Harley-Davidson, where he's going to work, and a heavy truck for Kenworth.
5 of 37
Riley McKee's Harley-Davidson concept.
6 of 37
Jordan Thomas designed these military vehicles for Tardec.
7 of 37
These military vehicles designed by Jordan Thomas can swap batteries (note the conveyor system in the middle of each vehicle). The left vehicle bring fresh batteries to swap with field vehicle on the right.
8 of 37
Innovative vehicle interior ideas from Junyoung Choi.
9 of 37
Sleek sports car from Mitchell Russell.
11 of 37
Eddie Cret and his Karma story board.
12 of 37
Low-slung, angular concept from Eddie Cret.
13 of 37
Senior Harrison Kunselman took inspiration from the anglerfish in designing this concept, which rolls on three spheres.
14 of 37
The blue sphere in the "mouth" of Harrison Kunselman's anglerfish concept acts as the front wheel, while two additional spheres occupy the rear, below the cabin.
15 of 37
Paul Snyder chairs the Transportation Design program at CCS.
16 of 37
Harrison Kunselman's off-roader.
17 of 37
Senior Tianze Yu with his Toyota concept.
18 of 37
Tianze Yu and his storyboard.
19 of 37
Long and lean concept from Jongmin Kim.
20 of 37
Race car styling influences student concepts.
21 of 37
Which end is the front? You'll need to ask senior Seokbin Hong.
22 of 37
Turbine-shaped rims on senior Anthony VanderHorst's concept.
23 of 37
Junior Madilynn Cadaret, who will be an intern at Stellantis this year, designed this fuel-cell concept.
24 of 37
In this digital age, clay modeling is important to the finished product.
25 of 37
Senior Deonte Williams with his clay model.
26 of 37
Clay modelers Andrew Krieger (left) and Austin Kinstler show their work.
27 of 37
Clay modeler Kurt Greene.
28 of 37
Senior Shauryavratt Kapoor with his heavy-truck concept.
29 of 37
Junior Sierra Roach designed this variable-height military vehicle as well as the Cadillac interior concept behind her.
30 of 37
Sophomore Mason Ross and his big-mouthed race car.
Advertisement – Continue Reading Below
This content is created and maintained by a third party, and imported onto this page to help users provide their email addresses. You may be able to find more information about this and similar content at piano.io
link