(Yicai Global) April 20 — In the past decade, especially since Pininfarina's last visit to China before the Covid-19 pandemic, the Chinese electric vehicle market has undergone "epochal changes," according to the chief executive officer of the Italian car designer.
"China has become the most advanced and most competitive EV market in the world," Silvio Pietro Angori, who is also managing director of Pininfarina, told Yicai Global yesterday at the 20th Shanghai International Automobile Industry Exhibition.
Pininfarina has more than 90 years of experience in designing fuel-powered cars. It created its first EV in 1977 and has since designed a wide range of electric models, including small city auto Nido EV, hydrogen-powered high-performance sports car Sintesi, and the Apricale, the world's first hypercar to achieve zero-emission performance.
Pininfarina set up an office in China in 2010 but had partnered with Chinese companies since the 1990s, Angori said, adding that the local market has developed a high capability level, so Pininfarina's main focus is on offering Chinese partners the most efficient solutions possible, both in terms of cost and consumer needs.
The auto market is experiencing a digital transformation like that of the smartphone market after the launch of the iPhone in 2007, according to Angori. To stand out among competitors, Pininfarina always need to be able to integrate the latest technologies, he noted.
Richard Yu, the head of the smart cars unit of Huawei Technologies and chief executive of Huawei Consumer Group, also compared the auto and phone industries at a recent event, identifying 2025 as going to be the watershed year.
Pininfarina has many Chinese partners, including SAIC Motors, Chery Automobile, and FAW Group.
Pininfarina's electric truck designed for DeepWay, a smart heavy truck joint venture of Chinese search engine giant Baidu and commercial vehicle logistics firm Lionbridge Financial Leasing, is on display at this year's Shanghai Auto Show. "We are very proud of this truck," Angori noted.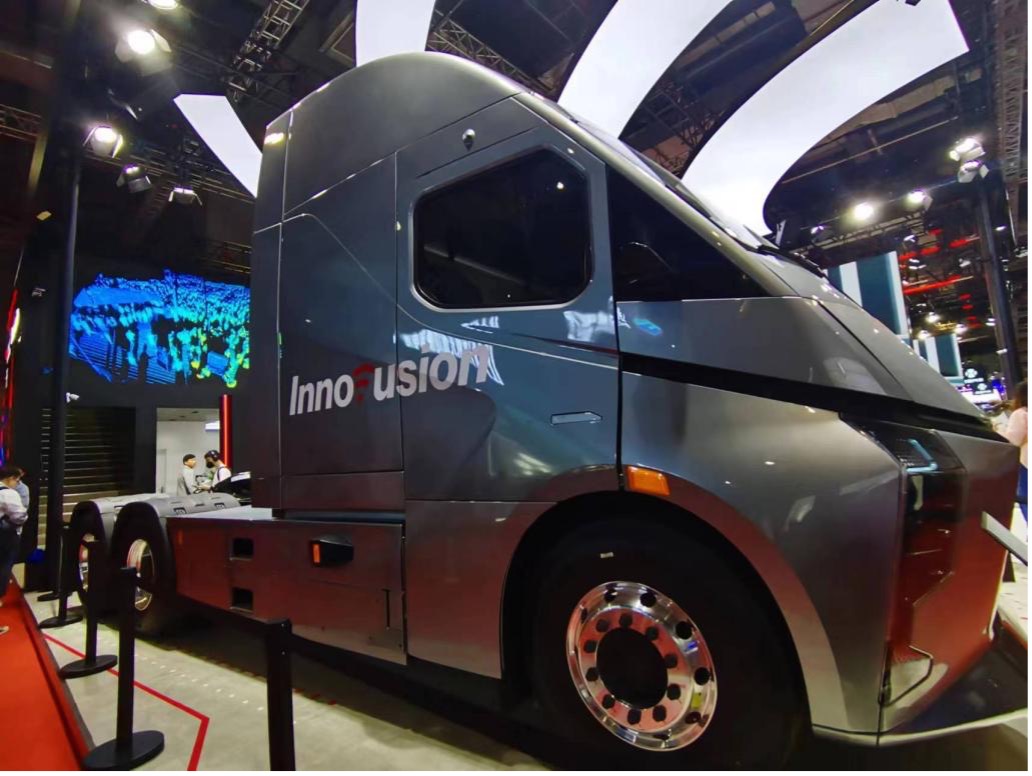 "We're working on other projects with Chinese partners, but they'll be completed in the next 12 months, so they could not appear at the Shanghai Auto Show," Angori said.
Another Pininfarina executive attending the event also told Yicai Global that he was very positive about the ongoing talks with Chinese firms, adding that the Shanghai Auto Show is a great opportunity for the Cambiano-based company.
In 2020, Pininfarina developed a modular EV platform with German auto parts supplier Robert Bosch and automotive technology firm Benteler to provide tailor-made e-mobility services to customers. "This solution can be adapted to all types of electric means of transportation, from electric scooters to electric bikes, motorbikes, cars, buses, and trucks," Angori noted, adding that it is expensive for carmakers to develop their own platforms.
"Pininfarina is also in talks with some Chinese companies to equip our modular e-mobility solution on Chinese cars," Angori said. He was unable to share their names because of confidentiality agreements.
Pininfarina showcased a driverless people mover based on its modular e-mobility solution at the Consumer Electronics Show in Las Vegas in January. "The vehicle is fully electric and highly interactive, just like an iPhone," Angori pointed out.
"We are deeply engaged in the environmental, social, and governance field," Angori said. "We will continue to carry out our business in a sustainable way while remaining the representatives of Italy's iconic design."
Editor: Tom Litting
link