Other project approvals include 42 new homes as well as expanded child care and business options.
LANSING, Mich. – Today, Governor Gretchen Whitmer joined the Michigan Economic Development Corporation to announce Michigan Strategic Fund approval for additional business expansions by two companies in southeast Michigan that will strengthen Michigan's leadership position in future mobility and electrification and grow the state's semiconductor ecosystem. The state is also supporting new affordable housing along with an expansion of child care and business development in Albion, Kalamazoo, and Sault Ste. Marie. The projects approved today will bring nearly $60 million to these local communities.
"Today's investments will create hundreds of jobs, bring more of the semiconductor supply chain home, fund housing and community development projects, and drive nearly $60 million of investment statewide," said Governor Whitmer. "Our goal is to build an economy of the future and compete with everyone to bring advanced manufacturing home to Michigan. Today's approvals show that our work is paying off. Let's keep working together to invest in every region of the state, create good-paying jobs, and build thriving towns offering strong opportunities for families and businesses."
"The projects approved today keep Michigan at the forefront of the critical semiconductor industry, build on our statewide leadership in advanced and EV manufacturing, continue to bring good jobs to Michigan residents, support vibrant communities, and increase growth opportunities for businesses ranging from start-ups to established companies," said Michigan Economic Development Corporation CEO and Michigan Strategic Fund President and Chair Quentin Messer Jr. "We are grateful to Governor Whitmer, legislators from both parties, and local officials for their continued support for our Business and Community Development programs. We appreciate the ongoing hard work of the Michigan Strategic Fund board. Today's MSF actions demonstrate Team Michigan's holistic, people-centric approach to economic development and underscore the power of "and" in positively impacting the lives of our friends and neighbors across Michigan."
California-based indie Semiconductor establishing design and testing facility in Auburn Hills, creating 180 high-wage jobs
indie Semiconductor, founded in 2007 and headquartered in Aliso Viejo, Calif., designs next-generation automotive semiconductors and software platforms. The company focuses on developing innovative, high-performance and energy-efficient technology for driver safety and automation (ADAS), user experience and electrification applications. indie has design centers and regional support offices across the U.S. and worldwide, including Auburn Hills, where it employs 26 Michiganders.
This project represents the first semiconductor firm to create or expand a design team in the state and contributes to MEDC's ongoing efforts to strengthen Michigan's leadership in mobility and vehicle electrification. The project is also expected to be a catalyst for the semiconductor industry's continued growth in the state, building on existing assets and companies such as KLA, Hemlock Semiconductor, Calumet Electronics, SK Siltron and more.
indie is experiencing significant growth and plans to expand its Auburn Hills office to include a best-in-class semiconductor design and testing facility, focusing on the development of highly innovative and integrated circuits and system solutions for the automotive market. The company also has ambitions to establish an additional facility in Southeast Michigan, as hiring increases over the next several years. indie is already building strong relationships with Michigan's universities to support advanced research and development while creating a workforce pipeline for the highly skilled positions required for this industry.
The project is expected to generate a total capital investment of $12.5 million and create up to 180 high-wage jobs with the support of a $10 million Michigan Business Development Program performance-based grant. Michigan was chosen for the project over competing sites from a number of other states. indie selected Michigan for its next U.S.-based design location because of its rich automotive history and proximity to the North American operations of most automotive manufacturers and their electronic module suppliers.
"Following the CHIPS Act, this marks another crucial step forward for indie and all semiconductor design and manufacturing companies, to increase U.S. leadership in the competitive automotive industry," said Donald McClymont, co-founder and CEO of indie Semiconductor. "This investment creates new job opportunities and allows indie to tap into and help grow the talented engineering community of Michigan."
For information about indie Semiconductor, please visit www.indiesemi.com.
"We are very excited that indie Semiconductor is experiencing such significant growth since locating in Auburn Hills in 2021," said Auburn Hills Mayor Kevin R. McDaniel. "We are honored they have chosen Auburn Hills for their next strategic investment. This reinvestment continues to build on our reputation as a great place to invest and do business. Companies like indie Semiconductor complement our already diverse corporate community and we look forward to continuing to support their success into the future."
BorgWarner expanding in SE Michigan, creating 186 jobs
BorgWarner, established in 1928 and headquartered in Auburn Hills, is a global provider of sustainable mobility solutions for the automotive market. The company has approximately 1,700 employees in Michigan.
BorgWarner is planning an expansion project that will accelerate its electric vehicle product development and testing, including battery modules, battery packs, and DC fast chargers; as well as scale up its DC fast charging manufacturing operations. The project includes expansions at its Auburn Hills, Dearborn, and Hazel Park operations as well as a fourth, yet-to-be-determined location across Oakland and Wayne counties.
The project is expected to generate a total capital investment of $20.6 million and create 186 jobs, supported by a $1.86 million Michigan Business Development Program performance-based grant. Michigan was chosen for the project over competing sites throughout the United States. Michigan's talent base and skilled workforce were key factors in selecting Michigan for this project, as well as the opportunity to easily collaborate across the facilities located in Oakland and Wayne counties.
"BorgWarner is pleased to continue to invest in the State of Michigan with the support of MEDC, growing our fast charging and battery capabilities to support the evolution to electrification," said BorgWarner President and Chief Executive Officer Frédéric B. Lissalde.
The project builds on the state's work to position itself as the global leader in the future of mobility and vehicle electrification. It will bring immediate jobs with a large and expanding auto supplier and solidify the company's presence and future investment in the state.
For information on careers with BorgWarner, visit https://www.borgwarner.com/careers.
"Borg Warner's continued commitment to and expansion in Oakland County is such welcome news for Auburn Hills and Hazel Park, where the company will accelerate its investment in the fast-growing EV market," said Oakland County Executive Dave Coulter. "The venture will benefit the local economy, the additional 100-plus workers at the facilities and the environment as Borg Warner gets closer to its carbon neutrality goals."
"We have enjoyed a long and prosperous relationship with BorgWarner, since they moved their headquarters from downtown Chicago to Auburn Hills in 2005," said Auburn Hills Mayor Kevin R. McDaniel. "Companies like BorgWarner directly contribute to job creation in our local communities and provide significant economic value to our regional economy. We are grateful for their continued investment in Auburn Hills as well as their generosity of time and treasure in our community, and proudly support their overall growth in Michigan. Congratulations to the team at BorgWarner for their continued growth and success."
First phase of Big Albion Plan will create 20 new homes, 10,000 feet of commercial space, and eight jobs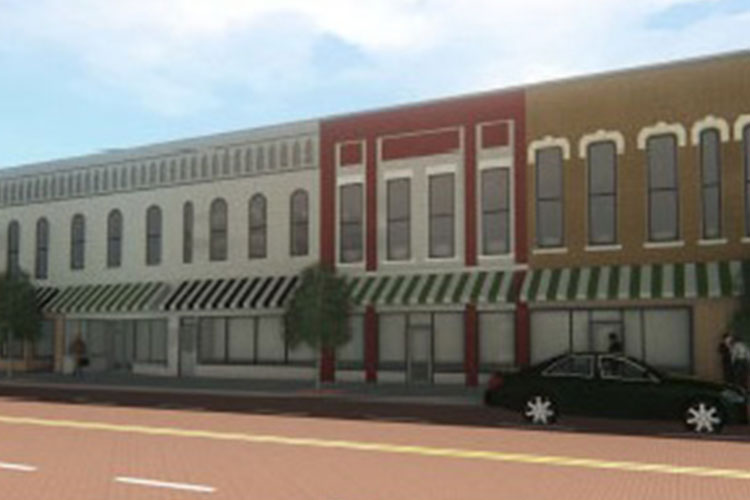 The Albion Redevelopment Corporation and OZB Phase I, LLC plan to redevelop nine functionally obsolete properties to create 20 residential units and more than 10,000 square feet of commercial space in downtown Albion. The project is expected to generate a total capital investment of $9.4 million and create eight full-time equivalent jobs, supported by a $1.5 million Michigan Community Revitalization Program (MCRP) performance-based grant and a $2.38 million MCRP performance-based loan. The City of Albion Brownfield Redevelopment Authority also received MSF approval of $806,580 in state tax capture for the reimbursement of brownfield activities at the site.
In addition to activating almost 29,000 square feet of long-vacant space, the project will utilize Federal Historic Tax Credits to ensure historic rehabilitation of the buildings. When completed, the project will transform almost an entire block of downtown Albion into vibrant, mixed-use spaces for new residents and small businesses. The project represents the first phase of the "Big Albion Plan," a much broader revitalization plan that includes the redevelopment of more than 20 buildings throughout the historic downtown district. The project will bring new density and walkability to downtown Albion and will act as a catalyst for additional investment in the area.
As the current mayor of Albion, I am grateful to see the next phase of the plan come to fruition after all of these years," said Albion Mayor Victoria Garcia Snyder. "This project will rehabilitate an area of our downtown that has desperately needed repairs and remodeling. This will, in turn, afford us the opportunity to attract new business along with offering much-needed housing options. I want to express my appreciation to the stakeholders that have invested in this plan and our state and local partners that have supported this vision and see value in restoring our downtown for improved quality of life for all our residents."
The city of Albion is supporting the project with a 12-year Obsolete Property Rehabilitation Act tax abatement valued at $793,672 and the local portion of the brownfield work plan valued at $697,300. The city of Albion is certified with MEDC's Redevelopment Ready Communities program.
"Albion College is pleased to be a part of this visionary downtown revitalization project that will strengthen relationships with the City, the downtown community and our neighbors," said Joseph Calvaruso, interim president and member of the Board of Trustees at Albion College. "This overarching project will attract quality talent who will contribute to both the College and our community. And as Ford Motor Co.'s BlueOval Battery Park Michigan opens in nearby Marshall, I consider it a win-win-win for the College, city and region."
"Albion is ripe for investment," said State Rep. Jim Haadsma (D-Battle Creek). "I'm pleased the state recognizes the potential here and excited to see how these strategic fund awards advance the Big Albion plan."
New development will bring 13 new homes and a childcare facility to downtown Kalamazoo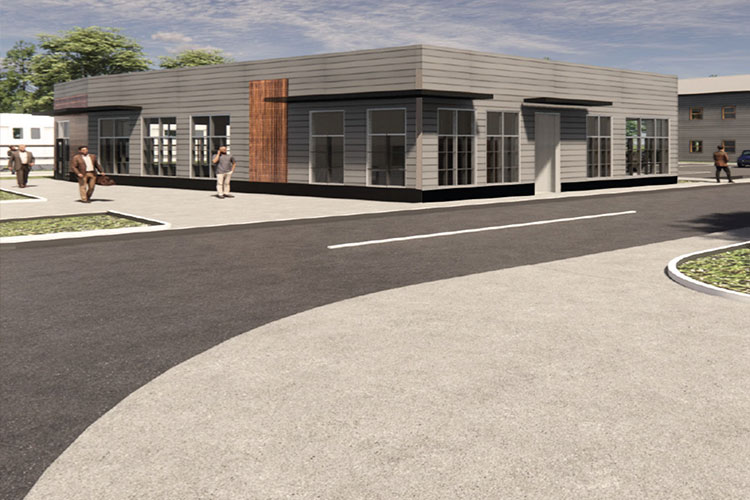 Bogan Developments LLC plans to construct a mixed-use development on a brownfield site on the north side of downtown Kalamazoo. When completed, the project will include 13 housing units and a childcare facility. The project will also make improvements to the surrounding public streets, including sidewalks to enhance connectivity between the downtown core and neighborhood. Housing units in the project are priced to be attainable for households earning between 60 and 120 percent of the Kalamazoo County area median income.
The project is expected to generate a total capital investment of $4.6 million, supported by a $1.08 million Michigan Community Revitalization Program performance-based grant. In addition, the City of Kalamazoo Brownfield Redevelopment Authority received MSF approval of $159,578 in state tax capture for the reimbursement of brownfield activities at the site. The project will redevelop a long-vacant brownfield site that meets important community needs for workforce housing and childcare. The project will also add density and walkability to the neighborhood and is expected to encourage investment in nearby properties that are underutilized or in need of revitalization.
"My project at 315 E Frank St. will address two critical issues in our community: affordable housing and childcare services," said Bogan Developments CEO Jamauri Bogan. "We are immensely grateful for the investment provided by MEDC."
The city of Kalamazoo is supporting the project through approval of the local portion of the brownfield plan valued at $245,891. The city is also providing a $400,000 loan under its "Housing for All" program and $50,000 in other grants. Kalamazoo County is also supporting the project with a $400,000 grant. The city of Kalamazoo is certified with MEDC's RRC program.
"The city of Kalamazoo is thrilled to support this project," said Kalamazoo Director of Community Planning & Economic Development Antonio Mitchell. "We are so grateful for Jamauri Bogan and his team of developers. This young man just a few years ago broke tackles and scored touchdowns on the gridiron as a Western Michigan University Bronco. Today, he leads a winning team that is scoring on the housing development field and making the dream of affordable living on Kalamazoo's Northside a reality."
"Congratulations to one of Kalamazoo's own homegrown developers, Jamauri Bogan of Bogan Developments, on this grant award," said State Rep. Julie M. Rogers (D-Kalamazoo). "As a former member of the Kalamazoo County Brownfield Redevelopment Authority, I greatly appreciate developers who step up with innovative projects. This one hits all the buckets: inclusive housing, on-site childcare, and contamination clean-up."
"I am pleased to support this project," said State Sen. Sean McCann (D-Kalamazoo). "It is great to see a focus on downtown redevelopment that not only provides a facility for child care but also expands our stock of affordable housing, when many have concerns about a lack of access due to pricing and interest rates. I look forward to identifying more opportunities for the State and the City of Kalamazoo to enhance both affordability and livability in downtown Kalamazoo."
Renovation of historic building will bring 14 jobs, nine new homes and business space to downtown Sault Ste. Marie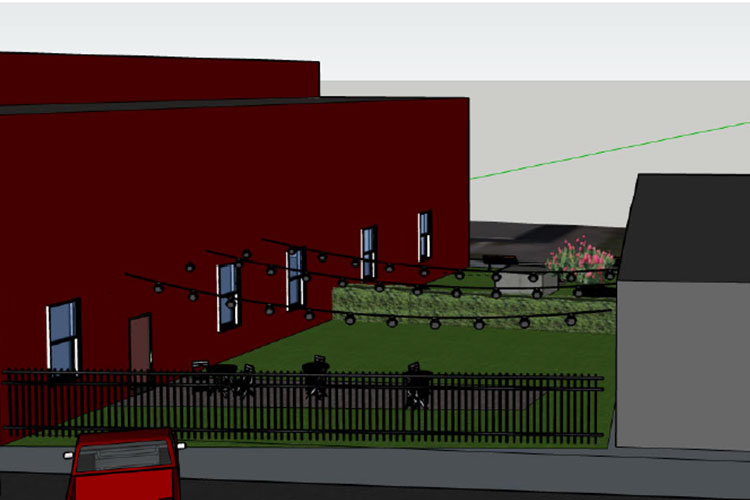 McClellan Realty, LLC plans to rehabilitate a vacant, highly visible and historic building in downtown Sault Ste. Marie. When completed, the mixed-use project will consist of two retail spaces on the first floor with additional commercial rental and storage space in the rear. The second floor will contain nine market rate residential apartments. The project is expected to generate a total capital investment of $5.7 million and create three full-time and 11 full-time equivalent positions, supported by a $1.5 million Michigan Community Revitalization Program performance-based grant.
The project will bring much needed housing to downtown Sault Ste. Marie, a high priority for the city. It will also reactivate a prominent historic building that contributes to the Sault Ste. Marie Commercial Historic District, recognized by the National Park Service and the Michigan State Historic Preservation Office. In addition, the project will add density and bring new economic activity to the community, as well as serve as a catalyst for additional revitalization.
The City of Sault Ste. Marie Brownfield Redevelopment Authority has received a $1 million brownfield grant from the Michigan Department of Environment, Great Lakes and Energy, and the city previously approved the local portion of the brownfield work plan, valued at $51,931 over seven years. The city of Sault Ste. Marie is engaged with MEDC's RRC program.
"EGLE is pleased to play a role helping put this property back into productive use in Sault Ste. Marie," said Carrie Geyer, brownfield section manager at EGLE. "Jobs, revenue and much needed housing will be a terrific asset to the community. More than half of EGLE's annual budget is distributed to cities, towns and villages throughout Michigan to create opportunities like this one, a win-win for the environment and the local economy."
MSF approves funds for land transfer, site preparation in support of Ford's BlueOval Battery Park Michigan project in Marshall
The Marshall Area Economic Development Alliance received MSF approval of a $120.3 million Strategic Site Readiness Program performance-based grant that will support land acquisition, site preparation, water and wastewater upgrades, professional fees, administration, and necessary public infrastructure improvements required for the Ford BlueOval Battery Park in Marshall.
Originally announced by Ford and approved by the Michigan Strategic Fund in February, Ford is investing more than $3.5 billion to construct and equip a new 2.5 million square foot electric vehicle battery manufacturing facility in Marshall. The project is expected to create 2,500 jobs that will add to the region's tax base and help further the company's electric vehicle future in the state.
"In partnership with Ford, the Marshall community is looking forward to a bright economic future as the automaker develops a domestic battery manufacturing facility here," said Jim Durian, CEO of the Marshall Area Economic Development Alliance. "This exciting project will have a positive impact on our area for generations to come by creating thousands of jobs at the facility as well as other opportunities related to its construction and spinoff investments. This development also will create a new, long-lasting talent pipeline, allowing local young people to stay in the region, put down roots and raise their own families."
MSF approves additional support for Sartorius Center of Excellence in Ann Arbor
In addition, the County of Washtenaw Brownfield Redevelopment Authority today received Michigan Strategic Fund approval of $975,600 in state tax capture for the 3874 Research Dr. project in Ann Arbor. In 2021, Sartorius BioAnalytical Instruments, Inc., a global leader in the biopharmaceutical industry, announced its plans to establish a Center of Excellence in Ann Arbor. At that time, the project was projected to generate a total capital investment of $57 million and create 300 jobs, supported by a $1.2 million Michigan Business Development Program performance-based grant. The project is on schedule as expected. The tax capture approved today will be used for the reimbursement of brownfield activities at the site.
The Michigan Strategic Fund also approved several initiatives aimed at supporting entrepreneurs and small businesses in the state:
Business Incubator Program (Gateway Representative) Amendments – Extension of contracts and additional funding for 20 existing nonprofit/university SmartZone organizations totaling $2 million, and a $100,000 grant to the city of Sterling Heights SmartZone. Spread across the state, the organizations provide business incubator services to high-tech startups in their regions.
Michigan Translational research and Commercialization (MTRAC) statewide program, Advanced Materials Innovation Hub designation and Advanced Transportation Innovation Hub designation – Designation of Michigan Technological University as the Advanced Materials Innovation Hub and designation of the University of Michigan as the Advanced Transportation Innovation Hub designation, both for six-year terms.
Michigan Israel Business Accelerator – Allocation of $449,500 to the Michigan Israel Business Accelerator to enhance bilateral trade and investment relations between Michigan and Israel, supporting MEDC strategic industries, small businesses, and foreign direct investment.
Invent@NMU Business Incubator – Approval of a 12-month extension for the Invent@NMU Business Incubator to provide entrepreneurial support services for entrepreneurs and existing small businesses in Marquette and the surrounding region.
International Trade Centers Request for Proposals – Approval of a Request for Proposals for the International Trade Program International Trade Centers to solicit proposals to provide trade promotion services to Michigan companies. More information can be found here. 
About Michigan Economic Development Corporation (MEDC)

link